About the Liguanea Preparatory School
To develop the total child providing stimulating learning programmes which will enable each child to develop emotionally, creatively, socially and physically.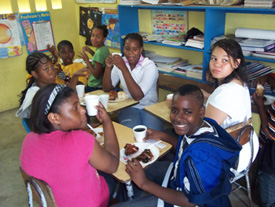 Liguanea Preparatory School Offers:
Moderate Class size
Affordable Fees
Remedial Assistance
Ministry of Education Curriculum
Computer Classes
A registration form MUST be completed before admission, accompanied by the child's Birth Certificate, Immunization Certificate and two (2) Passport size pictures.
KINDERGARTEN DEPT. – 7:45 A.M. – 1:30 P.M.
GRADE 1 – GRADE 6 & SPECIAL CLASS
7:45 A.M. – 2:00 P.M.
After Care from 2:00 – 5:00 p.m.
REGISTRATION & ADMISSION CHECKLIST